Eighteenth Century Microscopes
At the start of the eighteenth century, the two prominent British microscope designers were John Yarwell and John Marshall, both of whom strongly influenced microscope evolution. A modification of the standard English tripod microscope was made by Edmund Culpeper in 1725 and was reproduced with modifications and improvements for the next hundred years.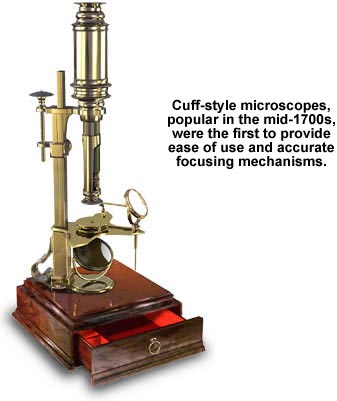 In 1738, Benjamin Martin introduced the drum microscope, which was also modified and improved by a number of instrument designers until the early 1800s. Around mid-century, John Cuff designed and built the first microscope (illustrated above) that was intended to be user-friendly and have an efficient focus mechanism. The Cuff-style microscope marked a departure from traditional microscope designs and heralded a new era of the modern microscope. Later in the century, George Adams and the Jones brothers (William and Samuel) continued improvements on the Cuff design, including a tripod-style foot and functional limbs with adjustable stages, condensers, and mirrors. There was not a great deal of improvement in lens design during this period, but the mechanics of the compound microscope were advancing in leaps and bounds.
Culpeper-Style Microscopes - These sliding-tube microscopes with tripod legs were a popular English design in the first part of the eighteenth century.
Dutch microscope maker Johan Joosten van Musschenbroek - These late seventeenth and early eighteenth century Dutch microscopes were unique designs of the period.
The "Flea" Microscope - Crafted into a simple tubular shape from bone or ivory, this single-lens microscope was used to examine small insects in the eighteenth century.
Unsigned Ivory Italian Microscope - Adorned with a turned ivory nosepiece and eyepiece, this early eighteenth century microscope was probably made by Italian instrument designer Pietro Patroni, of Milan.
Campani-Style Italian Compound Microscope - With two vellum-covered inner tubes and an outer tube covered in shagreen, this beautiful microscope may have been made by Giuseppe Campani in the early eighteenth century.
Dutch Side-Pillar Microscope - Dated before the mid-eighteenth century, this Dutch wooden and brass optical instrument is an early example of a side-pillar microscope that features a rotating diaphragm disc.
Patroni Tripod Compound Microscope - This brass, wood, and green vellum compound microscope, crafted by Pietro Patroni, recalls the style promoted by fellow Italian instrument maker Joseph Campani during the seventeenth century, but prefigures the similar British Edmund Culpeper microscopes that were first designed around 1725.
Joblot Side-Pillar Compound Microscope - French mathematics professor and bacteriologist, Louis Joblot created his side-pillar compound microscope in the style promoted by British innovators Robert Hooke and John Marshall. A combination of brass, turned wood, glass, cardboard, and paper were employed to fabricate the elegant instrument.
John Marshall English Compound Microscope - A beautiful microscope made from ebony, walnut, and pasteboard and covered with vellum and rayskin.
Petrus Patronus Italian Compound Microscope - Fashioned with leather-covered wood, the body tube of this monocular compound microscope is translated upward and downward on a brass pillar to achieve focus.
George Sterrop Screw-Barrel Microscope - This microscope, which is very similar to the original Wilson screw-barrel microscope, was made by London instrument designer George Sterrop in 1730.
Edward Scarlett Screw-Barrel Microscope - Microscopes having this design were very popular in early eighteenth century London, and models were developed by famous instrument makers such as Edmund Culpeper and George Sterrop. Edward Scarlett's microscope is fashioned from a combination of brass and wood.
Pre-1738 Simple Handheld Microscope - The elegance of simplicity is revealed in the hand-held design of the antique single lens microscope. Comprised of a single narrow piece of brass, the microscope is curved or bent in the center to resemble pincers or surgeons forceps.
Nuremberg Compound Monocular Microscope - Nicely crafted from pasteboard and wood, this mid-century microscope was made in Nuremberg, Germany.
The John Cuff Microscope - British microscope builder John Cuff introduced an innovative new design in the mid 1700s that would be copied for many years to come. Cuff's microscopes were well constructed with a mechanical operation that was superior to other microscopes of the period.
George Adams Compound Solar Microscope - Crafted by English instrument maker George Adams, this compound brass solar microscope was made in London around 1750.
Jeremiah Sisson Convertible Monocular Microscope - Based on the 1756 design of Dr. Stephen C.T. Demainbray, who was the personal astronomer of King George III at Kew, Jeremiah Sisson crafted this elegant, but precise scientific instrument from brass, wood, glass, and fish skin.
James Ayscough Chest-Type Microscope - Having a design similar to the Cuff-style instruments, this monocular compound brass microscope is mounted in a mahogany chest and is missing the body tube.
The Most Improved Microscope - A microscope built by the Jones brothers in the late 1700's that was considered a great improvement at the time.
Mr. Ellis' Aquatic Microscope - This low power microscope, a low-power Cuff-style, was used for dissection and observation of aquatic organisms in the middle of the eighteenth century.
Culpeper Screw-Barrel Microscope - A deviation from Culpeper's much-copied and popular tripod style, this microscope borrows many design features from other microscopes of the period.
The Pocket Microscope - Benjamin Martin designed this drum style compact microscope that was copied for many years in Europe.
Finlayson Scottish Stand Microscope - Elegantly hand-crafted from wood, this compound microscope was designed and built by John Finlayson around 1740.
Adams's Variable Microscope - This new design was made by George Adams in the 1770s, and featured a rack and pinion focusing system and compounding of the objective lenses.
The Compass Microscope - These microscopes were produced in a wide variety of models. This particular example was probably made by George Adams sometime in the middle of the eighteenth century.
George Adams All-Brass Lucernal Microscope - The lucernal microscope was an ingenious development by George Adams (senior), which arose from the basic design of the solar microscope. Adams and his son fabricated a number of lucernal microscopes of various sizes made from both brass and wood.
Nuremberg "Toy" Microscope - This wooden drum microscope was very popular in southern Germany during the middle of the eighteenth century.
Gerrit Cramer Culpeper-Style Microscope - Illustrations of an insect, a bunch of grapes, and a man of letters in two different poses decorate the barrel of the ebony and brass optical instrument. Also, ornate scrollwork and engravings provide the illusion of climbing vines and tendrils along the lower portion of the microscope's brass tripod. As an additional decorative touch, the black ebony base is highlighted with inlaid pewter, an embellishment that is similarly featured on the barrel of the compound microscope.
Nuremberg Toy Culpeper-Style Tripod Microscope - Another wooden microscope crafted by Bavarian artists, this microscope was probably built in the early eighteenth century.
The Chest Microscope - This variation of the Cuff microscope has been modified to fit into a small chest, making it far more portable.
The Prince of Wales Microscope - A unique inclined Cuff-style microscope made by George Adams in the 1750s.
Gerrit Cramer Brass Compound Screw-Barrel Microscope - Accompanied by an elaborate and beautiful wooden storage case, this screw-barrel microscope was made by Gerrit Cramer in the mid-1700s.
Italian Compound Microscope - This beautifully crafted Campani-style microscope was fashioned from ivory, vellum, and brass.
Watkins Silver Solar Microscope - The Watkins silver solar microscope is part of a 1750s microscope compendium, which also included a universal compound microscope, accessories, an accessory box, and a mahogany storage case.
Benjamin Martin Drum Microscope - An original microscope, signed by Martin, that was built late in his career.
Benjamin Martin Solar Microscope - Another microscope design created by prolific instrument maker Benjamin Martin.
Bazzanti Solar Microscope - Isidorvs Gaspar Bazzanti designed and built this solar microscope in 1760. Crafted of brass, glass, fruitwood, pasteboard, and decorative paper, the handheld, portable demonstration microscope embodies both function and aesthetics that were revived in the designs and philosophy of the Arts and Crafts Movement of the late nineteenth century.
Lucernal Box Camera Microscope - Described by Ledermüller in 1762, this evolution of the box camera obscura was used to view small specimens at higher magnification.
Early British Solar Microscope - Probably designed by John Cuff, this early wooden solar microscope was the predecessor of a later series of microscopes of similar design.
The Silver Microscope - Perhaps the most ornate microscope ever made, this silver masterpiece was produced for King George III by George Adams in the 1760s.
Cuff-Style German Microscope - German instrument maker George Brander probably made this ornate microscope in the late eighteenth century, borrowing from many design features published by John Cuff.
English Compass Microscope - Made with a brass frame and turned ivory handle, this unsigned compass microscope is engraved "R.M.S. No. 21".
French Box Microscope - This ornate and elegant eighteenth-century microscope is a typical box microscope design of the period.
Universal Microscopes - These microscopes were created by Benjamin Martin, Louis Dellebarre and George Adams during the mid to late eighteenth century. They were intended to provide extended portability and versatility to many applications involving the microscope.
Brass Sliding-Stage Microscope - Popular during the latter half of the eighteenth century, this simple sliding-stage microscope is of unknown origin.
Simple Flat-Pillar Monocular Microscope - Made by an unknown artisan around 1760, this simple flat-pillar brass microscope has a monocular eye lens and a small circular stage.
George Brander Compound Box Microscope - Utilizing a finely crafted wooden box as a stand and foundation, this beautiful German microscope was fashioned by George F. Brander sometime around 1768 in Augsburg.
Dellebarre Compound Monocular Microscope - Outfitted with mountings and accessories crafted of fine ivory, brass, and vellum, this unsigned microscope, estimated to be dated around 1770, is a rare find.
Withering Botanical Viewing Microscope - Described and illustrated in the landmark botanical treatise, A Botanical Arrangement of All the Vegetables Naturally Growing in Great Britain (published in 1776), this portable simple botanical microscope was designed by British physician William Withering.
German Culpeper-Style Microscope - Heavily influenced by Culpeper, this microscope was designed by the Antwerp physician Vervliet in the late eighteenth century.
Peter Dollond Chest Microscope - The Peter Dollond compound chest microscope is based on improvements to the Cuff-style microscope introduced by British scientific instrument designers Edward Nairne and Thomas Blunt around 1780.
German Scioptic Ball Projector - Beautifully crafted in fine mahogany, this scioptic projector was made late in the eighteenth century.
Dellebarre-Style Dutch Compound Microscope - Although unsigned, this microscope is typical of the instruments made in Delft at the turn of the century and designed by Paris artisian Louis Dellebarre.
Peter Dollond Monocular Eirometer - Originally designed to accurately measure thickness in threads of wool, the 3-inch long pocket-sized microscope possesses minimalist appeal.
George Adams Jr. Lucernal Microscope - Although not signed, the lucernal microscope described in this section is almost certainly the work of British instrument maker and optician George Adams Jr., who would have designed it around 1790. A photograph and description of the original wooden and brass optical instrument is featured in Gerard Turner's highly informative work entitled The Great Age of the Microscope.
Granger Brass Acorn Simple Microscope - Granger's three-in-one brass magnifier, known either as a flea or acorn microscope, typifies one style of very popular pocket microscope commonly produced during the late eighteenth and early nineteenth centuries.
W. & S. Jones Solar Microscope - Produced sometime in the late 1790s, this brass and mahogany microscope was designed to attach to a window shutter.
George Adams Simple Dissecting Microscope - First described by Pieter Lyonnet to the Dutch Society of Science in the mid-1700s, this microscope was popular with naturalists of the period.
James Simons Compound Monocular Microscope - The designer of this microscope, James Simons of London, is described as a maker of mathematical, philosophical, and scientific optical instruments.
Withering Botanical Microscope - Designed by noted British botanist William Withering, this simple microscope is intended for field viewing of plant specimens.
Questions or comments? Send us an email.
© 1998-2022 by Michael W. Davidson and The Florida State University. All Rights Reserved. No images, graphics, scripts, or applets may be reproduced or used in any manner without permission from the copyright holders. Use of this website means you agree to all of the Legal Terms and Conditions set forth by the owners.
Last modification: Friday, Nov 13, 2015 at 02:19 PM
Access Count Since January 3, 2000: 139018
For more information on microscope manufacturers,
use the buttons below to navigate to their websites: