Limited Edition Cocktail Necktie Collections
Cocktails. Tie one on. The startling clarity of your favorite cocktails, as visualized through the microscope, is revealed in the breathtaking patterns and unique designs found in the Molecular Expressions Cocktail Collection limited edition neckties.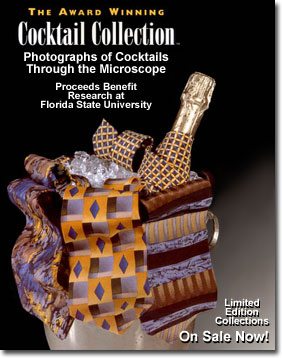 Combining the elements of art, science, and fashion, the original creator of the Molecular Expressions designer neckties, Stonehenge, Ltd., has produced collections that have presented consumers with beautiful designs from nature, while educating them about compelling subjects such as vitamins and Moon Rocks. The Cocktail Collection provides an education on drinking and driving while simultaneously enabling the conscientious consumer to "tie one on" safely before driving. Cocktail Collection neckties are made in the USA with 100 percent silk. In addition, all of the proceeds from necktie sales benefit scientific research and education at The Florida State University.
Neckties can either be purchased individually from the specific Cocktail Collections linked below at a 40 percent savings over the retail price in stores, or in selected Limited Edition Collections of 12 neckties at a savings of 70 percent!
The Beer Collections - We are currently offering several beer necktie collections that feature a wide variety of patterns and color schemes to suit almost every occasion. This large series of neckties ranges from the popular traditional conservative patterns (and colors) to the latest designs in casual neckwear with much brighter colors.
Bourbon Collection Number One - Designed for both casual and formal attire, the bourbon collection features 9 color schemes in a single pattern. Included are conservative blues, reds, and grays, as well as more colorful pink, green, yellow and orange tones.
Champagne Collection Number One - Dominated by neutral or red colors, the first champagne collection neckties consist of a single pattern offered in 6 different color schemes. Among the colors featured in the champagne neckties are several shades of red, green, brown, tan, black, blue and gray.
Rum Collection Number One - Dominated by a distinct diamond pattern, neckties in the first rum collection feature a single pattern offered in 6 color combinations. The rum pattern colors include black, blue, red, various shades of gray, gold, purple and orange.
Scotch Collection Number Three - The third scotch collection features both conservative and casual neckties having a single pattern, but with three color schemes. Conservative scotch neckties from the third collection have browns, tans, and blue colors, while the more casual necktie pattern is colored with bright reds, orange, blue, purple, brown, and black.
Tequila Collection Number One - The first tequila collection neckties feature a single pattern in a variety of bright and conservative color schemes. The wide spectrum of colors available in this collection include browns, blues, reds, yellows, grays, tans, orange, and purple.
Vodka Collection Number One - Neckties in the first vodka collection feature a single pattern offered in 6 individual color schemes. Colors included in this collection are reds, blues, greens, purples, blues, and yellows in various shades.
Vodka Collection Number Two - Featuring a single pattern with 4 color schemes, the limited edition second vodka collection neckties are striking and can be employed to match conservative business and casual suits.
Whiskey Collection Number One - Having only four color schemes, the single pattern featured in the first whiskey necktie collection covers the entire gamut with respect to taste and fashion. Several of the neckties are very conservative while one features bright blue and green patterns that can be used in a casual setting.
Wine Collection Number Two - Far more casual than the first wine collection, the neckties in the second wine collection feature a wide spectrum of colors motifs derived from a single pattern. Included in this series are bright shades of brown, tan, blue, gray, green, purple, orange, and red.
Limited Edition Necktie Collections
Each necktie collection consists of the 12 carefully selected neckties from the individual groups linked above along with an educational brochure describing the history of these award winning neckties and details about how the images are made in the microscope. Collection prices are $120.00 each, which represents a 45 percent discount over the individual neckties purchased separately, and an incredible 70 percent discount over the suggested retail price. Quantities are limited, so please order soon to ensure availability.
Limited Edition Cocktail Collection Number One - Featuring common drinks such as beer, brandy, champagne, rum, tequila, vodka, whiskey, and wine, this beautiful collection contains neckties with colors that include bright reds, blues, Earth tones, and various gray levels.
Limited Edition Cocktail Collection Number Two - Consisting of different patterns made from the common drinks such as beer, brandy, champagne, rum, tequila, vodka, whiskey, and wine, the second Cocktail Collection contains neckties with colors that include bright reds, muted blues, strong Earth tones, and various gray levels mixed with brighter colors.
The two limited edition Collections are available now for only $120.00 (each) plus shipping (and 7.5 percent sales tax for Florida residents). This price is a 70 percent reduction of the cost in stores (actual suggested retail price for individual neckties is $30.00). For pricing on individual neckties or larger collections, please contact us via email.
BACK TO MOLECULAR EXPRESSIONS HOME
Questions or comments? Send us an email.
© 1995-2022 by Michael W. Davidson and The Florida State University. All Rights Reserved. No images, graphics, software, scripts, or applets may be reproduced or used in any manner without permission from the copyright holders. Use of this website means you agree to all of the Legal Terms and Conditions set forth by the owners.
This website is maintained by our
Graphics & Web Programming Team
in collaboration with Optical Microscopy at the
National High Magnetic Field Laboratory.
Last modification: Friday, Nov 13, 2015 at 01:18 PM
Access Count Since December 5, 2002: 246144
Microscopes provided by: