Nineteenth Century Microscopes
The nineteenth century witnessed vast improvements in microscope design and function. Objectives and condensers were being built with multiple lenses that had increasing degrees of optical correction. Photomicrography made its debut in mid-century and by the end of the nineteenth century, high-end microscopes performed better than many student models produced today.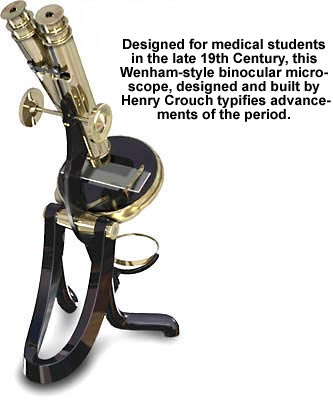 The first part of the nineteenth century witnessed dramatic improvements in optics with the introduction of achromatic objectives by van Deijl, Amici, and Lister that also raised numerical apertures to around 0.65 for dry objectives and up to 1.25 for homogeneous immersion objectives. Innovations in machine tooling led to greatly improved design and construction of the microscope's mechanical elements and many well-crafted instruments appeared by designers such as Beck, Chevalier, Nachet, Leitz, Powell & Lealand, Ross, and Zeiss.
In 1886, Ernst Abbe's work with Carl Zeiss led to the production of apochromatic objectives based, for the first time, on sound optical principles and lens design. These advanced objectives provided images with reduced spherical aberration and free of color distortions (chromatic aberration) at high numerical apertures. At the end of the century, in 1893, Professor August Köhler reported a method of illumination, which he developed to optimize photomicrography, allowing microscopists to take full advantage of the resolving power of Abbe's objectives. The last decade of the nineteenth century saw innovations in optical microscopy, including metallographic microscopes, anastigmatic photolenses, binocular microscopes with image-erecting prisms, and the first stereomicroscope.
Lister's Achromatic Microscope - A revolutionary compound microscope that was one of the first to sport lenses corrected for achromatic aberration.
Quekett's Homemade Compound Microscope - This crude soft wood microscope may have been use by Edwin Quekett as a boy.
English Simple Microscope - Attributed to the Jones brothers, this microscope is an example of a pocket botanical microscope introduced during the waning years of the eighteenth century.
Brass "Acorn" Microscope - Totally encapsulated in a cylindrical case, this early nineteenth century compact microscope was crafted to easily fit into a pocket, and is known as the Acorn microscope.
Simple Brass Loupe-Style Microscope - Bearing a close resemblance to the modern photographer's loupe, this simple microscope was made around 1800 by an unknown craftsman.
British Fixed-Mirror Monocular Microscope - Bearing an inscription that reads, "Brock Invenit et Fecit, London", this all-brass British microscope possesses standard features and was manufactured in the early 1800's.
Dellebarre Compound Monocular Microscope - Dutch instrument maker L. F. Dellebarre, of Leyden, designed and built this monocular microscope sometime around 1800.
Galileo-Style Compound Microscope - A significant amount of controversy swirls around this unsigned brass Italian compound microscope and a smaller sister instrument that are housed at the Museum of the History of Science in Florence, Italy. Some claim they were built by Galileo Galilei and handed down through the centuries, but others dismiss them as nineteenth-century replicas due to their craftsmanship and brass materials.
Thomas Winter Exhibition Microscope - The most impressive feature of this microscope, built by Thomas Winter around 1810, is the large circular ivory stage, which consists of a revolving cylinder carrying three rows of apertures for a total of 65.
William and Samuel Jones Botanical Microscope - This simple William and Samuel Jones microscope was originally described by George Adams Jr. as the "Common Botanical Microscope" in his publication entitled Essays on the Microscope. Included with the microscope is an elegant rayskin case and numerous accessories
Bernardinus Marzoli Wooden Microscope - Manufactured in Brescia, Lombardy, this wooden microscope is a well-made example of the work from an advanced amateur, Bernardinus Marzoli, an Italian microscope designer who experimented extensively with achromatic lenses in the early nineteenth century.
Gould-Style English Microscopes - Charles Gould designed a prototype pocket microscope that was well-suited for a nature-oriented culture in early nineteenth century England.
John Dollond Compound Monocular Microscope - This early nineteenth century Dollond microscope was considered to be among the finest optical instruments developed prior to the introduction of achromatic microscope objectives.
S. J. Rienks Compound Monocular Microscope - Built according to the design of Dr. Robert Smith, this brass reflecting microscope was made in Holland around 1825.
English Box Camera Obscura - A dual-lens box projection camera fashioned from wood in the early nineteenth century.
John Cuthbert's Reflecting Microscope - John Cuthbert designed and built this unusual reflecting microscope in 1826.
Simple Brass Compound Microscope - Made by an unknown artisan around 1830, this simple brass microscope has a monocular eye lens and a disc-shaped specimen holder that contains six apertures.
Andrew Ross Convertible Simple-Compound Microscope - Andrew Ross fashioned the convertible, simple-compound microscope as a portable companion instrument to a full-sized brass compound microscope. Both were designed and commissioned in 1831 by William Valentine, a noted botanist from Nottingham, England.
Early Ross Microscope - Nottingham botanist William Valentine also commissioned the fabrication of this microscope by Andrew Ross in 1831.
Amici Compound "Periscope" Microscope - The Giovanni Amici design features a body tube that is segmented by a triangular prism box and somewhat resembles a submarine periscope that has been placed in inverted position.
Jecker Horizontal Catoptric Microscope - The novel use of a catoptric concave mirror to reduce aberration during image formation is perhaps the most interesting feature of this horizontal microscope.
Nachet Polarizing Microscope - Camille Sébestian Nachet introduced one of the first polarized light microscopes, equipped with Nicole prisms, in 1833.
Bertrand "Furnace-Style" Microscope - Often referred to as a furnace type microscope, this finely detailed miniature was designed by Bertrand and stands a modest four and one-half inches high.
Andrew Ross Polarized Monocular Microscope - Crafted in London England by Andrew Ross & Co., this all brass monocular compound polarized light microscope is dated 1839.
Georges Oberhauser Compound Monocular Drum Microscope - Georges Oberhauser, regarded as one of Europe's finest nineteenth century microscope makers, built this drum microscope before 1840.
Abraham and Dancer Single Pillar Microscope - The Abraham and Dancer single pillar microscope is an early example of a compound achromatic microscope, and was built around 1841. John B. Dancer, a Manchester optician and mathematical instrument maker, is better known as the inventor of photomicrographs and the father of microfilm.
Simple Aquatic Microscope - Equipped with a Coddington lens, this simple microscope (possibly Italian) was designed to image tiny aquatic creatures from lakes and ponds.
Oberhauser's Drum Microscope - Another Fraunhofer-style drum microscope by Georges Oberhauser that was made sometime around 1850.
Nachet's Drum Microscope - A French version of the classic drum microscope that is very similar in design to the Oberhauser drum microscope.
English Handheld Simple Microscopes - Before the advent of the achromatic lens by Joseph Jackson Lister in 1826, simple microscopes were generally considered superior scientific instruments than more complicated, but technically flawed compound microscopes. In fact, even after the development of the improved lens, simple magnifiers fashioned from materials such as brass, wood, bone, and ivory continued to be popular with the scientifically curious Victorians.
An English Drum Microscope - This popular microscope was widely sold in London and surrounding areas during the mid to late 1800s.
Chevalier's Achromatic Microscope - Vincent Chevalier developed the first microscope to use a combination of lens elements partially corrected for chromatic aberrations in the middle 1800s.
British Homemade Microscope - Part of the collection of the Royal Microscopical Society, this homemade microscope is of unknown origin.
English Simple Brass Microscope - Fashioned from lathe-turned and machined brass stock, this simple one-lens microscope was built by an unknown artisan around 1835.
Oberhauser Horizontal Compound Monocular Microscope - Georges Oberhauser, a renowned European optician, manufactured this brass compound microscope sometime between 1835 and 1840. Designed for versatility, the drum-style monocular is presented in a horizontal microscope configuration.
Charles Chevalier's Horizontal Microscope - In a collaboration with his father, Charles Chevalier built this unique brass microscope in the mid-nineteenth century.
Charles Chevalier Compound Monocular Microscope - Built around 1839, this microscope is a smaller version of Chevalier's universal microscope.
Chevalier Compound Monocular Student Microscope - Famous French instrument builder Charles Chevalier constructed this student microscope around 1840.
Hugh Powell's 1841 Microscope - London instrument maker Hugh Powell produced this microscope at the request of the Microscopical society of London in 1841.
Powell & Lealand Stirrup-Lever Microscope - This very early Powell & Lealand microscope is modeled after the designs of Charles Gould, but also features a stirrup-shaped lever controlled mechanical stage that was invented by Cornelius Varley. Moving the lever up or down shifts the stage from side to side, an advanced feature (for the period) that enables a microscopist to follow living aquatic specimens without interrupting viewing.
Bertrand Box Microscope - Meticulously crafted in Paris, France, the miniature Bertrand drum microscope is accompanied by a beautiful mahogany box and dates back to about 1841.
Andrew Ross Compound Monocular Microscope - Andrew Ross was a skilled English optician who crafted this brass compound microscope sometime between 1841 and 1842. During the period from 1837 to 1841, Ross worked in partnership with the renowned microscopy pioneer and optics theoretician Joseph J. Lister. Their joint efforts helped transform the microscope from a toy or parlor oddity into an important scientific tool in medical diagnosis and biological research.
Pacini-Style Italian Compound Monocular Microscope - Filippo Pacini, a highly talented Italian instrument maker, designed and built this brass microscope in the middle nineteenth century.
Pacini Compound Monocular Microscope - Similar to the microscope described in the link above, this brass microscope is another design from Italian microscope maker Filippo Pacini.
Amici Compound Microscope - Italian microscope designer Giovanni Battista Amici is well known for his horizontal microscopes. This advanced model was designed and built around 1850.
Linen Prover Simple Microscope - In the mid-nineteenth century, textile merchants used standardized simple microscopes that were known as linen provers to ensure that linen weavers met specified fiber counts. Also known as counting glasses, the handy, pocket-sized magnifiers were sometimes used for other types of inspection work as well, including art verification and forensic science.
William Salmon Brass Compound Microscope - British instrument maker William J. Salmon built his brass compound microscope with a sturdy Y-shaped foot and three screw-in foot pads sometime around 1850.
Jaubert Compound Monocular Microscope - One of the more stylish designs of the period, this French microscope features a circular stage and all-brass construction.
Raspail Simple Microscope - Used primarily for aquatic observation, this single-lens microscope performed better than many compound microscopes of the period.
Grunow Brothers Compound Binocular Microscope - Designed by Professor J. L. Riddell of the University of Louisiana, this microscope was built by the Grunow brothers in 1853.
Nachet's Binocular Compound Microscope - One of the most unique compound microscopes of the period, this brass beauty produces a truly stereoscopic image.
The "Monkey" Microscope - Perhaps one of the most unusual microscopes ever made, the Monkey microscope is part of the Billings Microscope Collection housed in Washington DC.
Nachet Pocket Microscope - An early attempt by Nachet of Paris to build a pocket microscope resulted in the commercial production of this brass beauty between 1856 and 1872.
Smith & Beck "Milk Box Microscope" - Originally termed The Educational Microscope, this brass and wooden model was introduced by the Smith & Beck firm in the 1850s as a low-end teaching microscope.
Lennie Edinburgh Drum Microscope - This brass drum microscope was fabricated sometime after 1857 and is signed "Lennie Edinburgh," which is likely a reference to the Lennie family of retail sellers on Princes Street in Edinburgh, Scotland, rather than the actual name of the instrument's maker.
Watch Chain Microscope - Built like a modern loupe, this single-lens brass microscope has a ring on the side to permit attaching it to a watch chain.
Thury's Multi-Ocular Microscope - This unusual multi-ocular microscope was made by the Geneva Optical Company for Professor M. Thury in the late nineteenth century.
Compound Monocular Microscope - A simple compound microscope with a brass stage, probably made around the beginning of the Civil War period during the early 1860s.
Plössl Compound Microscope - George Simon Plössl, who was a nineteenth-century Austrian optics expert from Vienna, manufactured this brass compound microscope around 1860. Plössl is most famous for an eyepiece that he designed, which still carries his name.
Nobert Compound Monocular Microscope - A member of a German clock-making family, Friedrich Adolf Nobert is best known in the microscopy arena as the pioneer of ultra-fine micrometric standards and circle-dividing engines that used diamond rulings. The brass compound monocular microscope featured here is part of the Carl Zeiss collection in Jena and is one of only five known examples of a Nobert microscope.
Nachet & Son Horizontal Compound Monocular Microscope - Constructed entirely from brass, this horizontal microscope was produced by Nachet & Son in the early 1860s.
Lenticular Pocket Microscope - Constructed around a 1 by 3-inch glass slide, this simple microscope was designed by Dr. Golding Bird in 1857 and built by Mortiz Pillischer in 1860.
Charles Baker Student Microscope - Featuring a monocular body with Nicol prism accessories, this student microscope was sold in England during the 1860s.
Smith, Beck & Beck Universal Microscope - This compound monocular microscope was built in 1862, and represents a typical single-tube microscope of the period.
Carl Zeiss Simple Dissecting Box Microscope - Built at the end of the American Civil War, this single-lens microscope was useful for dissecting very small specimens.
Italian Inverted Compound Microscope - Italian instrument maker Filippo Pacini built this beautiful brass inverted microscope in 1868.
Ladd's Student Microscope - The unique chain-driven focusing mechanism on this student microscope is complimented by the optical bench-style construction.
Amici Achromatic Microscope - Featuring an unusual quad eye tube head, this early achromatic microscope was offered in a number of different configurations.
John Browning's Polarizing Microscope - Using a unique mechanism for providing illuminating polarized light, this compound microscope was built by London designer John Browning in 1865.
Ross Compound Aquarium Microscope - A horizontal body tube and specially designed foot on this microscope allow close observation of aquariums and terrariums.
R. & J. Beck Wenham-Style Binocular Microscope - An adjustable set of Wenham-style binocular body tubes and limb are just several of the unique features exhibited by this microscope.
R. & J. Beck Compound Binocular Dissecting Microscope - Another design from prolific instrument makers R. & J. Beck, this microscope was originally conceived by Nachet.
Smith, Beck & Beck Large Best Microscope - Smith & Beck created a style of compound microscope dubbed the Large Best or No. 1 Stand, and set a design trend with the brass scientific instrument that lasted more than 20 years.
Powell and Lealand's No. 1 - Known as perhaps the most famous of all microscopes, this Victorian-era British beauty is exquisite in both detail and craftsmanship.
Grunow Inverted Compound Binocular Microscope - Executed almost entirely in brass, this microscope was made in 1867 for Major General George H. Thomas of the United States Army.
William Salmon's Compound Microscope - The simple, yet unique, design of the wooden stage on this microscope allowed great flexibility in its applications.
Binocular Wooden Dissecting Microscope - London instrument maker Charles Collins made this medical dissecting microscope for Dr. Henry Lawson in the late 1860s.
Baker Naturalist's Traveling Microscope - Although Charles Baker of London marketed it as the naturalist's traveling microscope in their 1868 catalogue, Mordecai C. Cooke, a famous British mycologist and founding member of the Quekett Microscopical Club, commissioned William Moginie to design this special edition, which became his favorite laboratory instrument.
French Compound Monocular Brass Microscope - Built sometime after 1875, this brass microscope is of French manufacture and was offered to customers with either an oblong or oval base. The microscope was very moderately priced for the period.
German Handheld Compound Microscope - During scientific lectures and other types of natural history demonstrations that were popular during the late Victorian period, simple microscopes were often passed around the room with a mounted specimen for the audience's viewing pleasure. When not in use, however, this compound microscope may safely rest horizontally on two feet and the eyepiece housing.
Hawkins & Wale Compound Monocular Microscope - This unusual microscope was exhibited at the International Exposition in Philadelphia in 1876 by its maker George Wale. It features a spiral coarse focus mechanism that was later adapted by Swift & Son in London.
Benjamin Pike Compound Monocular Microscope - Imported by Benjamin Pike Sons & Company in 1878, this microscope probably has English or French origins.
Coddington-Style Portable Simple Microscope - Generally composed of brass, ebony, and glass, portable simple microscopes were popular with physicians, field botanists and were often a centerpiece in the Victorian parlors of Europe and North America before the turn of the nineteenth century.
Beale's Clinical Microscope - Designed in a motif similar to many seventeenth-century Italian microscopes, this 1870s horizontal microscope was used in clinical demonstrations.
Nachet Binocular Microscope Head - French instrument designer Camille Sebastien Nachet introduced this binocular viewing head as a curiosity in 1870.
James W. Queen & Company Compound Monocular Microscope - This brass monocular microscope was designed and constructed in Philadelphia during the early 1870s.
Logan's Simple Microscope - Fashioned from hickory wood, this simple microscope was presented to the Royal Society by James N. Logan in 1871.
Beck's Large Best - London microscope makers R. & J. Beck produced this Wenham-style binocular brass microscope in the early 1870s.
French Compound Monocular Microscope (Tripod Base) - Built sometime in the mid to late 1800s, this French compound monocular microscope was probably made in Paris.
William Ladd Compound Monocular Microscope - This simple monocular microscope is composed of a series of cylinders making up a base through which light is passed for sample illumination.
U. S. Army Medical Museum Compound Monocular Microscope - Museum curators suspect that this microscope was produced by the U. S. Army Medical Museum for an exhibit at the International Exposition in Philadelphia in 1876.
French Compound Monocular Microscope (Round Base) - Fine focus is not provided on this basic French microscope, but its optical system includes a Huygenian eyepiece, a single objective, and an internal field lens. Both Nachet & Son and E. Hartnack & Company made similar unsigned trade microscopes in their Paris workshops.
James W. Queen Compound Monocular Microscope - Designed by Dr. Oliver Wendell Holmes around 1873, this elegant brass and walnut microscope was built by James W. Queen and Company in Philadelphia.
Schmidt and Haensch Compound Monocular Microscope - Originally designed and built to examine trichinae infection of meat, this instrument is not adaptable for use as an ordinary microscope
Henry Crouch's Microscope - This universal and compact microscope was designed to meet the needs of nineteenth century medical students.
Joseph Zentmayer Compound Monocular Microscope - Joseph Zentmayer, a precision instrument maker from Philadelphia, made this brass microscope in 1880.
Hartnack Monocular Demonstration Microscope - The very basic design of this brass, rubber, and iron compound microscope produced by skilled optician Edmund Hartnack around 1880 omits both a substage condenser and light-gathering mirror. The demonstration instrument can be used vertically or handheld horizontally as a solar microscope in medical classrooms.
French Compound Aquarium Microscope - Designed and crafted by a French artisan in the late nineteenth century, this microscope was probably used with an aquarium, for dissection, or in the examination of surfaces.
Hartnack and Prazmowski German Compound Microscope - Signed "E. Hartnack & A. Prazmowski Rue Bonaparte, 1, Paris", this German brass microscope is equipped with an assortment of accessories and an elegant wooden case.
Nachet Demonstration Compound Microscope - Appearing in Nachet catalogs between 1872 and 1892, this demonstration microscope was used to display specimens to a class or large audience.
Griffith Club Microscope - Ezra H. Griffith, of Rochester, New York, designed and built this student-style microscope for field and class work.
English Simple Wooden Microscope - Originally designed by Dutch microscopist Pierre Lyonet, this model was probably made in the late nineteenth century by George Adams, Junior.
Wenham's Universal Inclining and Rotating Microscope - A universal brass microscope that is capable of an almost infinite number of configurations.
Nachet Inverted Compound Monocular Microscope - Designed for observing objects from their underside and minute aquatic organisms, this brass microscope was one of many made by Camille Sebastien Nachet.
R. G. Manson Projection Microscope - Originally termed Manson's Patent Lantern & Table Microscope, this instrument was awarded a silver medal at the Royal Cornwall Polytechnic Exhibition in 1884.
Carl Zeiss Horseshoe Dissecting Microscope - Fashioned with nickel-plated brass and mahogany, this elegant dissecting microscope was made around 1885.
James Swift Portable Compound Microscope - Standing on a brass tripod, this portable microscope was labeled Blankley's small pocket microscope in James Swift's 1870 catalog.
English Wooden Dissecting Microscope - This simple wooden homemade microscope was fashioned from mahogany by Latimer Clark in the late 1800s.
Swift and Son Compound Binocular Microscope - The skilled British optical instrument makers at James Swift and Son designed this stunning, brass binocular microscope, which is based on two Greenough-style stereoscopic tubes, each equipped with an objective and an eyepiece.
Edmund Hartnack Microspectroscope - Designed to to replace the eyepiece of an optical microscope, this spectroscope was built by Edmund Hartnack around 1885.
Powell and Lealand Nelson Jubilee Portable Microscope - British microscopist Edward Milles Nelson, a developer of the critical illumination technique, designed the Powell and Lealand monocular, compound portable microscope and exhibited the instrument at the November 9, 1887 meeting of the Royal Microscopical Society in London, England, in the same year as its construction.
French Brass Aquarium Microscope - Having a foot that is similar in design to that used by Nachet, this brass microscope was built in the late 1800s and probably used to view events in aquaria.
Beck 'Star' Compound Monocular Microscope - This economical microscope was introduced in London during the late nineteenth century.
Bausch & Lomb Compound Monocular Inverted Microscope - This beautiful all-brass inverted monocular microscope was built late in the nineteenth century.
Watson & Sons Dissecting Microscope - Three legs support a brass ring that bears the circular glass stage of the late-nineteenth-century Watson & Sons simple dissecting microscope. The instrument presented in this section is based on a photograph and description by Julian Holland, published in his description of the Macleay Museum's microscope collection.
Jules Duboscq French Brass Compound Monocular Microscope - Signed "J. Duboscq of Paris, No. 176", this all-brass microscope was one of many scientific instruments made by the French artisan.
Ernst Leitz Compound Monocular Tissue Examination Microscope - Designed by Dr. E. Nebelthau (Marburg, Germany) for examining very large sections of tissue or culture plates, this compound monocular microscope was built by the Ernst Leitz Company in Wetzlar, Germany in 1896.
Ernst Leitz Compound Binocular Microscope - One of the most advanced stereomicroscopes of the period, this Leitz binocular microscope served well as a routine laboratory workhorse.
Questions or comments? Send us an email.
© 1998-2022 by Michael W. Davidson and The Florida State University. All Rights Reserved. No images, graphics, scripts, or applets may be reproduced or used in any manner without permission from the copyright holders. Use of this website means you agree to all of the Legal Terms and Conditions set forth by the owners.
Last modification: Friday, Nov 13, 2015 at 02:19 PM
Access Count Since January 3, 2000: 183442
For more information on microscope manufacturers,
use the buttons below to navigate to their websites: