Polarized Light Microscopy Digital Image Gallery
Progesterone
Progesterone is a female sex hormone that is produced by the adrenal glands and the mass of cells formed in the ovaries called the corpus luteum, as well as the placenta in pregnant individuals. In addition to its central role in the reproductive cycle of women, progesterone is believed to aid in the metabolism of glucose and the maintenance of strong, healthy bones.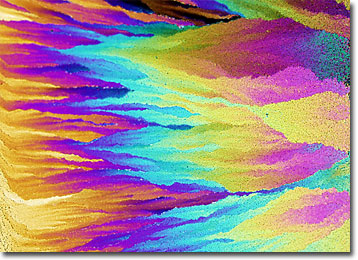 View a second, third, fourth, and fifth image of Progesterone
Vital for the successful implantation of a fertilized egg into the lining of the uterus, in months when fertilization does not occur, the levels of progesterone produced in the female body decrease soon after the egg is released. Several days later, bodily levels of the steroid drop to such an extent that the uterine wall begins to deteriorate, resulting in menstruation. However, if the egg released is successfully fertilized, progesterone production not only continues, but increases. This augmentation of the hormone serves to help maintain the corpus luteum, support the pregnancy, and ready the mammary glands for the production of milk.
Synthetic derivatives of progesterone, often referred to as progestins, are commonly utilized in oral contraceptives, Depo-Provera, and other birth control methods. Progestins, which may help reduce the risk of some cancers, are also frequently prescribed to women suffering from undesirable effects associated with menopause. Yet, administration of synthetic progesterone may itself be problematic at times, occasionally contributing to the development of blood clots, cardiovascular problems, and decreased levels of high-density lipoprotein. To diminish the possibility of such negative side effects, many doctors have begun prescribing progestins in lower dosages.
---
BACK TO THE CHEMICAL CRYSTALS GALLERY
Questions or comments? Send us an email.
© 1998-2022 by Michael W. Davidson and The Florida State University. All Rights Reserved. No images, graphics, scripts, or applets may be reproduced or used in any manner without permission from the copyright holders. Use of this website means you agree to all of the Legal Terms and Conditions set forth by the owners.
Last modification: Friday, Nov 13, 2015 at 01:19 PM
Access Count Since November 20, 2003: 12361
All of the images in this gallery were captured with a QImaging Retiga camera system.
For more information on these cameras, use the button below to access
the QImaging website:
For more information on microscope manufacturers,
use the buttons below to navigate to their websites: