Polarized Light Microscopy Digital Image Gallery
Carbofuran
Carbofuran is an insecticide and nematicide that was first introduced in 1965. It is currently available in both granular and liquid forms, but is only legal to use on a few kinds of crops in the United States due to potential health and environmental hazards.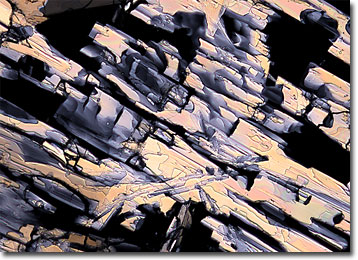 A member of the carbamate class of pesticides, carbofuran is known by a variety of trade names, such as Furadan, Crisfuran, Yaltox, and Pillarfuran. Similar to the organophosphates, the compoundís mode of action is the inhibition of the enzyme cholinesterase. Carbofuran has been heavily utilized in the past to treat corn crops, but is today more often applied to alfalfa, rice, grapes, and turf. The restricted use pesticide is moderately persistent in soils, its half-life falling somewhere between 30 and 120 days, and does not accumulate in animal tissues. Nevertheless, the substance may cause significant health effects, long-term exposure to high levels of carbofuran potentially leading to damage of the nervous and reproductive systems of the human body. The more common, reversible short-term effects of exposure include sweating, headache, nausea, chest pains, vision problems, anxiety, and a weakening of the muscles.
Many of the current regulations regarding the use of carbofuran are related to the pesticideís high toxicity to fish and birds. Indeed, the association of carbofuran with hundreds of documented cases of avian death, some of which involve large amounts of birds, has caused particular concern. In a single incident in Oklahoma, for instance, approximately 500 Canadian geese perished after feeding in a field treated with liquid carbofuran, while in a similar event in California, exposure to the pesticide was deemed the cause of death for almost 2,000 ducks. Some environmentalists believe that the granular form of carbofuran is even more hazardous than the liquid variety, since a single granule is toxic enough to kill a small songbird if ingested.
---
BACK TO THE CHEMICAL CRYSTALS GALLERY
Questions or comments? Send us an email.
© 1998-2022 by Michael W. Davidson and The Florida State University. All Rights Reserved. No images, graphics, scripts, or applets may be reproduced or used in any manner without permission from the copyright holders. Use of this website means you agree to all of the Legal Terms and Conditions set forth by the owners.
Last modification: Friday, Nov 13, 2015 at 02:19 PM
Access Count Since January 23, 2004: 11241
All of the images in this gallery were captured with a QImaging Retiga camera system.
For more information on these cameras, use the button below to access
the QImaging website:
For more information on microscope manufacturers,
use the buttons below to navigate to their websites: