Polarized Light Microscopy Digital Image Gallery
Adenosine Triphosphate (ATP)
Adenosine triphosphate, often referred to simply as ATP, is a nucleotide found in the cells of all living organisms. The organic compound is chiefly responsible for generating and transmitting the chemical energy necessary to carry out various biochemical processes, a fact which was discovered by Fritz Albert Lipmann and Herman Kalckar in 1941.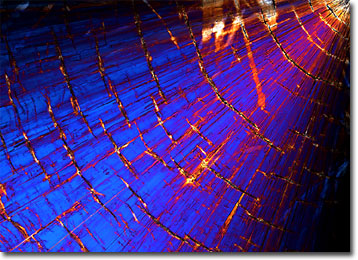 An ATP molecule is composed of the pentose sugar ribose, the purine base adenine, and three phosphate groups linked together in a chain. The energy that is available to ATP is stored as chemical bonds between the phosphate groups. When the bonds are severed through the process of hydrolysis, the energy is liberated and free to be transferred where needed to facilitate movement, metabolism, or other bodily activities. Yet, ATP is not a storage molecule in the sense that carbohydrates and fats are storage molecules. Indeed, when a cell requires energy, the energy stockpiled in carbohydrates and fats is transformed into ATP.
Cells are constantly breaking down ATP, but never run out of the important nucleotide. This is because ATP is also being synthesized on a continuous basis via cellular respiration or photosynthesis, depending on whether the organism in question is a plant or an animal. During both of these processes, adenosine diphosphate (ADP) molecules may pick up an extra phosphate group, resulting in ATP. In addition to its role in energy metabolism, ATP plays an important part in nucleic acid synthesis and may function as a neurotransmitter when outside of cells.
---
BACK TO THE CHEMICAL CRYSTALS GALLERY
Questions or comments? Send us an email.
© 1998-2022 by Michael W. Davidson and The Florida State University. All Rights Reserved. No images, graphics, scripts, or applets may be reproduced or used in any manner without permission from the copyright holders. Use of this website means you agree to all of the Legal Terms and Conditions set forth by the owners.
Last modification: Friday, Nov 13, 2015 at 02:19 PM
Access Count Since January 23, 2004: 18965
All of the images in this gallery were captured with a QImaging Retiga camera system.
For more information on these cameras, use the button below to access
the QImaging website:
For more information on microscope manufacturers,
use the buttons below to navigate to their websites: