Fluorescence Digital Image Gallery
Fern Spores
Fern is a common name for the cryptogamous, or spore-producing, plants belonging to the division Filicophyta, also called Filicinophyta. They are primitive vascular plants with true roots, stems, and complex leaves.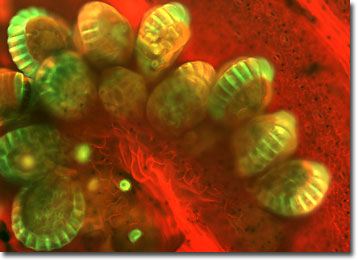 Most ferns reproduce through the alternation of generations, alternating successive generations of sexual and asexual forms. The sexual form, called the gametophyte or prothallia, is a tiny kidney-shaped plant and difficult to find in the wild. The asexual form, known as a sporophyte, is represented by the fern plant as it is commonly known.
Sporophyte ferns have two methods of asexual reproduction. One is by vegetative cloning, branching off of the root-like underground stem, or rhizome, often forming large, genetically uniform colonies. The second form of asexual reproduction occurs by spores. These form on the undersides of the leaves in clusters of spore cases called sporangia, or sori (singular, sorus). Sori appear as brown spots and may or may not be present on all leaves. Some species have sori on all the leaves, while others have specialized leaves that bear the sori. When the sporangia dry out, they break open, releasing the spores into the wind. Germination begins when a spore falls in a place with proper conditions of heat and moisture.
The Filicophyta division is diverse, containing about 150 genera and as many as 15,000 species. Fern fossils have been dated to the Lower Devonian Period, 360 million years ago, making them one the oldest vascular plants. Ferns occur throughout the world, but are most profuse in tropical regions where some species grow as epiphytes (air plants) on the trunks and branches of trees. The number and diversity of ferns diminishes with increasing latitude and decreasing moisture, though a few species are found in dry, cold regions.
The specimen presented here was imaged with a Nikon Eclipse E600 microscope operating with fluorite and/or apochromatic objectives and vertical illuminator equipped with a mercury arc lamp. Specimens were illuminated through Nikon dichromatic filter blocks containing interference filters and a dichroic mirror and imaged with standard epi-fluorescence techniques. Specific filters for the fern spores thin section were a B-2E/C and a Y-2E/C. Photomicrographs were captured with an Optronics MagnaFire digital camera system coupled to the microscope with a lens-free C-mount adapter.
BACK TO THE FLUORESCENCE DIGITAL IMAGE GALLERY
Questions or comments? Send us an email.
© 1998-2022 by Michael W. Davidson and The Florida State University. All Rights Reserved. No images, graphics, scripts, or applets may be reproduced or used in any manner without permission from the copyright holders. Use of this website means you agree to all of the Legal Terms and Conditions set forth by the owners.
Last modification: Friday, Nov 13, 2015 at 02:19 PM
Access Count Since September 15, 2000: 60064
For more information on microscope manufacturers,
use the buttons below to navigate to their websites: