Film Basics
Films for photography are coated with a number of very thin light-sensitive emulsion layers consisting of silver salts and/or dyes (Figure 1). When light is allowed to expose the emulsion, active centers combine to form a latent image that must be developed through use of photographic chemicals. This requires exposure of the film in a darkened container to a series of solutions that must be controlled with respect to temperature, development time, and with the appropriate agitation or mixing of the solutions.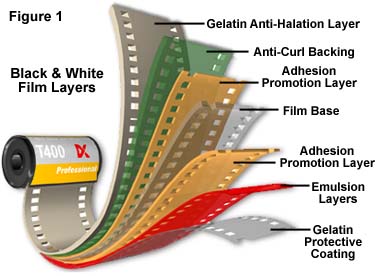 The developing process must then be halted by means of a stop solution. Next, the unexposed emulsion material, which consists of unused silver salts and dyes, is cleared and the film fixed, then washed and dried for use. The development, stop, fixing, and clearing must be done under darkroom conditions or in light-tight developing tanks, and film must be handled in complete darkness. The rigors of temperature, duration, and agitation are usually dependent upon the film being used. For example, the Kodachrome K14 process is far more demanding than the E6 process used for Ektachrome, Fujichrome and other popular color reversal films.
The emulsion speed determines how much light must be used to expose the film in a given time period. Film emulsions are rated according to their ISO number (International Standards Organization), which gives an indication of the relative film speed. The ISO number incorporates both the older ASA (American Standards Association) designation and the logarithmic DIN (Deutsches Industrie Norm) speed ratings. The ASA number is directly proportional to film speed, while the DIN system uses a logarithmic scale (an increase of 3 DIN degrees represents an increase in film sensitivity by a factor of two). A typical ISO designation for Fujichrome Velvia 100 transparency film would be 100/21°, which refers to an ASA of 100 and a DIN of 21°. Many exposure meters, especially in older American cameras, are calibrated according to ASA numbers, while European cameras use the DIN equivalent. In cases where the ISO is abbreviated as a single number (200, for example), only the ASA rating is being provided. Larger ISO numbers indicate faster films with an ISO of 25 being one of the slowest films available and ISO 1600 one of the fastest. A film having an ISO rating of 200 is twice as fast as a film with an ISO rating of 100. Because the microscope is a relatively stable platform with good illumination properties, films in the 50-200 ISO range are commonly used for photomicrography.
Film is divided into a number of categories depending upon whether it is intended for black/white (see Table 1 for black/white film choices) or color photography (see Table 2 for color film choices). Color films are subdivided into two types: color films that yield positive transparencies (colors like those of the image being observed) and color negatives (colors complementary to those in the microscope image, e.g., green for magenta and blue for yellow), which require printing on photographic paper to display true colors.
The color films can be further subdivided into two groups: films designed to receive light of daylight spectral composition and those designed to receive indoor or so-called tungsten light. As a rule, but with some exceptions, transparency or positive films have the suffix "chrome", such as Kodachrome, Ektachrome, Fujichrome, Agfachrome, etc. Color negative films usually have the suffix "color", such as Kodacolor, Ektacolor, Fujicolor, Agfacolor, etc. Each of these film types is available in various speeds or ISO ratings. Film packages show the ISO of the film and whether the film emulsion has been balanced for daylight or indoor/tungsten illumination (see Table 2 for color film choices). Modern 35 millimeter film cassettes have a code (termed the DX number) that allows specially designed camera backs to automatically recognize the film speed and number of exposures.
Color negative films and black/white films must be printed on special printing machines (your local 60-minute commercial processors for color negatives or an enlarger for black/white negatives) in order to reconstitute the image as seen in the microscope. Color transparency or positive type film yields the original positive image directly on the film base without the printing step. It is in the intermediate step from negative to print that the photomicrographer may lose control of the printing process and inadvertently turn this control over to "non-thinking machines" with automatic color filters, sometimes with dismaying results, especially in fidelity of color rendition.
The color temperature of tungsten-halogen lamps found in modern microscopes varies between 2900 K and 3200 K, depending upon the voltage applied to the lamp filament. Film manufacturers offer film balanced for 3200 K, and usually indicate on the cassette that the film is intended for indoor or scientific use. Fuji offers a very nice transparency film, Fujichrome 64T, that has a rather slow emulsion speed intended for tungsten illumination, but is designed to perform well with push film processing. To push a film, it is first underexposed by one or several f-stops, then the development time in the first developer is increased to decrease film density and increase contrast. This technique often will increase the color saturation of the image.
Daylight-balanced film, by far the most common film available at retailers in a wide variety of ISOs, can also be used with the microscope, provided an appropriate filter is added to the light path. Manufacturers usually add a daylight conversion light filter to their microscope packages as standard equipment, and high-end research microscopes usually have this filter (called a daylight color temperature conversion filter) in a magazine housed in the base of the microscope. Almost any color print or transparency film can be used for microscopy, provided the daylight-balanced filter is in place for those films designed for a 5500 K color temperature, or removed if the film is balanced for tungsten illumination (3200 K).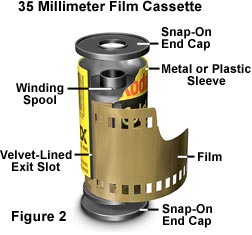 Both black/white and color films are available in a number of size formats for use in a variety of camera types. The most common format is 35 millimeter, which is available in individual cassettes (illustrated in Figure 2) that work in the widest range of cameras. These cassettes are of uniform size and can accommodate film lengths capable of producing from 12 to 36 full-frame (24 x 36 millimeter) exposures. The film is wound on a single spool that is encased in a light-tight metal or plastic sleeve with end caps. Film exits the sleeve through a light-tight slot that is lined with black velvet and is drawn through the camera with a set of driver sprockets that match a pre-cut pair of sprocket holes on each edge of the film. After exposure in the camera, 35 millimeter film is rewound into the cassette before being removed from the camera black box.
Other film formats useful in photomicrography are 120 (6 x 6 or 6 x 7 centimeters) and 4 x 5-inch sheet film, as illustrated in Figure 3. Although widely used by professional photographers, 120 format film is seldom used in optical microscopy, but several manufacturers have produced camera backs that accommodate this film. More widely used is the 4 x 5-inch format sheet film, for which a number of popular microscopes have been adapted. Larger format films are more difficult to use, but their larger size produces higher quality photographs that can be enlarged to a greater degree than images produced on 35 millimeter film. When making photomicrographs that will eventually be greatly enlarged, it is preferable to start with a larger format film to reduce grain size in the final enlargements.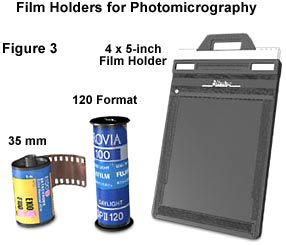 Usually, the higher the ISO or ASA or speed of the film, the coarser the grain and the less fine the resolution. For best resolution and smallest grain size, it is desirable to use films of 100 ISO or lower, especially if the light intensity will call for comparatively short exposures. However, sometimes the light intensity is so weak that the photomicrographer has to sacrifice some resolution and grain fineness and choose films of ISO from 200 to 400, or even higher, in order to keep the exposure short. This is especially true in fluorescence photomicrography.
Films with an ISO between 25 and 100 are termed slow films because they are less sensitive to light and produce more contrast than faster films. Slow film will reveal the maximum image detail, but also takes the maximum amount of illumination and typically requires much longer exposure times. This makes photomicrography with slow films prone to artifacts such as inherent vibrations in the laboratory room and furniture or wind currents from movements or ventilation systems.
Medium speed films have an ISO rating between 125 and 400 and represent an excellent compromise between long exposures with fine grain (slow films) and very short exposures with much larger grain size (fast films). Many contrast enhancing optical microscopy techniques, such as Hoffman modulation contrast, polarized light, phase contrast, fluorescence, and differential interference contrast, require longer exposure times than brightfield due to reduced light levels. Often, photomicrography with medium speed films will produce better images when using these specialized techniques.
When light levels are very low, as typically found using fluorescence microscopy, most photomicrographers resort to fast films with an ISO rating between 400 and 3200. Fast films respond very well to low light levels with short exposure times, but suffer from enlarged grain size that can compromise the quality of the final image. When changing to fast films, experiment to determine the lowest ISO number film (longest exposure times) that will produce satisfactory images.
Technical specifications for film emulsions should be consulted for critical work in photomicrography. This information is available (usually on the web) from the major film manufacturers, and is very useful in helping to determine which film is optimal for the job at hand. The graphs illustrated in Figure 4 contain information about various aspects of Kodak Ektachrome 64T, a tungsten-balanced film that is a good choice for photomicrography. Included in these specifications are the spectral sensitivity for this film, the modulation transfer function response, and exposure characteristics that yield information about reciprocity failure.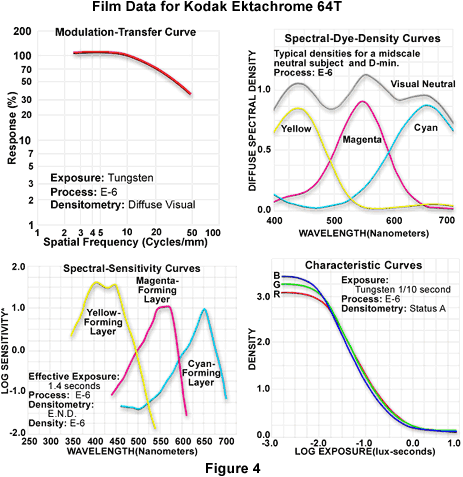 For black/white photomicrography, Kodak T-Max 100 is one of the best all-purpose films for normal use, and its higher ISO derivative, T-Max 400, can be used where light is scant. Kodak Technical Pan is the highest resolution black/white film, but it is more difficult to use because it has an ISO (range of 25 to 200) that is dependent upon the developer type, the processing temperature, and the amount of agitation used. Fuji, Ilford and other manufacturers provide comparable films. All of these films yield negatives, which then require printing to yield a positive print (see Table 1 for a compilation of films suitable for black/white photomicrography).
Black/White Films for Photomicrography
Film
Brand
Film Brand
Developers
Enlarger
60-Min.
Processor
Agfapan APX
(100, 400)
Rodinal
Refinal
•
---
Fuji Neopan
(400, 1600)
D-76
HC-110
•
---
Ilford Delta
(100, 400)
D-76
HC-110
•
---
Ilford XP-2 Super
(400)
C-41
---
•
Kodak T-Max
(100, 400)
D-76
HC-110
•
---
Kodak T-Max
(400CN)
C-41
---
•
Kodak Tech Pan
D-76
HC-110
•
---
Kodak Advantix
(+400)
C-41
---
•
Konica Monochrome VX
(400)
C-41
CNK-4
---
•
Table 1
For color photomicrography, any one of the three daylight Kodachromes is an excellent choice, and are available in ISO ratings of 25, 64, or 200. All Kodachrome films require K-14 processing, carried on in selected Kodak processing plants, and thus usually have long turnaround times. Ektachrome daylight 100 ISO films (there are several of these films, as described in Table 2) are very good general purpose transparency films. Fuji Velvia (ISO 50), Fuji Astia (ISO 100) and Fuji Provia (ISOs 100, 400, and 1600) are also very good daylight balanced transparency films. Velvia has very high resolution, extremely small grain size, and outstanding color saturation. Indoor Ektachrome 64T and Chrome 160T transparency films are also highly recommended, because they are balanced for a color temperature of 3200 K, and Kodachrome 40 professional (tungsten type, color balanced for 3400K) is an outstanding fine transparency film for high resolution and accurate color rendition. One of the best tungsten-balanced color transparency films is Fujichrome 64T, which is specifically designed for push processing with a minimum grain size. This film yields superior color saturation and produces images having extremely fine detail. Kodak Ektachrome Elite daylight 100, 200, and 400 are positive transparency films better suited for fluorescence micrography because fluorescing specimens usually emit light of low level intensity. Ektachromes and Fuji transparency films use E-6 processing, often available locally in institutions (e.g., hospitals and large commercial companies) or in neighborhood professional film processors such as drug stores and supermarkets.
Other films useful for color photomicrography are listed in Table 2. Agfa offers a variety of daylight-balanced color negative and chrome films in 35 millimeter format, as does Konica. Neither company currently produces a commercial tungsten-balanced film version.
Color Films for Photomicrography
Color Negative
(Available ISO's)
Illumination
Source
Color
Temperature
(Kelvin)
Chemistry/
Processing
Agfa Futura APS
(100, 200, 400)
Daylight
5500
C-41
Agfacolor HDC Plus
(100, 200, 400)
Daylight
5500
C-41
Agfacolor Optima II Prestige
(100, 200, 400)
Daylight
5500
C-41
Fujicolor Superia
(100, 200, 400, 800)
Daylight
5500
C-41
Fujicolor Superia Reala
(100)
Daylight
5500
C-41
Fujicolor Nexia
(D100, H400)
Daylight
5500
C-41
Kodak Porta
(100T)
Tungsten
3200
C-41
Kodak Porta
(160N-VC, 400N-VC)
Daylight
5500
C-41
Kodak Pro Supra
(100, 400, 800)
Daylight
5500
C-41
Konica Centuria
(100, 200, 400, 800)
Daylight
5500
C-41
Konica Centuria APS
(200, 400)
Daylight
5500
C-41
Konica Impresa Pro
(50)
Daylight
5500
C-41
Konica Pro
(160, 400)
Daylight
5500
C-41
Konica Pro Centuria
(100)
Daylight
5500
C-41
Color Reversal
(Available ISO's)
Illumination
Source
Color
Temperature
(Kelvin)
Chemistry/
Processing
Agfachrome CT Precisa
(100, 200)
Daylight
5500
E-6
Agfachrome RSX II
(50, 100, 200)
Daylight
5500
E-6
Ektachrome
(64T, 160T, 320T)
Tungsten
3200
E-6
Ektachrome Pro
(E100)
Daylight
5500
E-6
Ektachrome Elite Chrome
(100, 200, 400)
Daylight
5500
E-6
Ektachrome Elite Chrome
(160T)
Tungsten
3200
E-6
Fujichrome Velvia RVP
(50)
Daylight
5500
E-6
Fujichrome Tungsten
(64T Type II)
Tungsten
3200
E-6
Fujichrome Astia
(100)
Daylight
5500
E-6
Fujichrome Provia
(100, 100F, 400, 1600)
Daylight
5500
E-6
Kodachrome Tungsten
(40)
Tungsten
3400
K-14
Kodachrome
(25, 64, 200)
Daylight
5500
K-14
Konica Chrome
(R-100)
Daylight
5500
E-6
Table 2
Generally, it is advisable to stay away from color negative films (suffix "color") because you lose control of the step between negative and print. If you have a custom printer, color negative films such as daylight-balanced Kodak Porta, Fujicolor Superia, and Agfa Futura can give fine results. These films use C-41 processing such as is done by the local 60-minute processing shops. If your local processor is willing to hand manipulate the built-in filters of the machines, results can be very good. The machine's automatic filters are usually geared to reproduce skin tones accurately and, as a result, may be very inaccurate in reproducing colors of photomicrographic subjects. However, one of the advantages of negative film is that it is more forgiving of underexposure or overexposure than is positive transparency film.
Two other films deserve special mention: Ilford XP2 is a black/white film, 400 ISO, that is developed in the same color chemistry (C-41) as the commonly used color negative films. Thus, you can use this film as a black/white film, or, more accurately, one of sepia print tones, and take the exposed film to your local 60-minute processing shop and get a set of positive prints and finished negatives in an hour or two. Kodak has made available a version of T-Max 400 called T-Max 400 CN that can be processed by the same C-41 chemistry as used in the 60-minute color processing stores. This too then will be an easy way to get black/white prints and finished negatives in a short and convenient time without having to use an enlarger.
Film packages (Figure 5) contain a significant amount of critical information about the film and its applications. The packaging usually contains, in addition to standard manufacturer's logos, bar codes, proof of purchase coupons, etc., the intended film speed, catalog number, number of exposures, processing suggestions, lot number, and expiration date. It is a good idea to carefully examine each film package to make certain it will fulfill the requirements for photomicrography prior to opening and inserting the film into the microscope camera.
For many applications, securing the photomicrograph almost immediately is a necessity or a great advantage. Here the Polaroid films are unrivaled. These films for photomicrography are available in three sizes: 35 millimeter Polachrome (color transparency), and Polapan (black/white) in 3¼" x 4¼" film packs and 4" x 5" individual film packets. Larger formats are available in color (ID numbers 668/669 or 58/59) or black/white (ID numbers 667, 52, 665, 55, etc.). Although very convenient, Polaroid films are considerably more expensive than corresponding films produced by Kodak, Fuji, Konica, and Agfa, and this extra cost must be taken into account, especially if large quantities of film are routinely used.
Films whose boxes are marked professional, are those that have been brought to their correct stage of "ripening" and then kept under refrigeration (by dealers and micrographers) until use. Such films should be allowed to come to room temperature for an hour or so before use in the camera. Ordinary "off the shelf" films are sold with the assumption that they will be on the dealers' shelves for some time and thus "ripen" after a while. Always check the film box to make certain that you are not using expired films. For the most critical work, consider buying film in large batches, manufactured at approximately the same time (try to get film that has a consistent lot number). Exposed film should be processed promptly.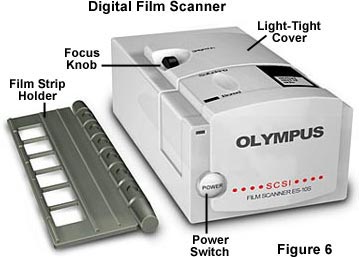 If you have prized transparencies and negatives collected over a long period of time, many of the better camera stores can scan these and write them onto a Kodak Photo CD, which is the same size as an audio CD. The Photo CD can hold up to 100 images that are stored at several levels of resolution. Digital images recorded onto the Photo CD can be displayed on a good monitor by means of a Photo CD player. If you have a computer and a program such as Adobe Photoshop, Corel Photo Paint, or Picture Publisher and a CD drive, you can open the images on your computer screen, manipulate and/or enhance the images and then print the images using a digital printer--all without a darkroom! Kodak, Fuji, Olympus, Tektronix, and Sony market dye sublimation printers that can produce prints virtually indistinguishable from those printed with the usual color enlarger in a darkroom.
35mm negative and positive transparency scanners and flatbed scanners, available from such manufacturers as Nikon, Olympus, Polaroid, Kodak, Agfa, Microtek, Hewlett-Packard, etc., can directly scan transparencies or negatives or prints into your computer for storage or manipulation. Images can be stored on the hard drive of the computer or stored on floppy disks in JPEG or TIFF files. Because floppy disks have storage limited to 1.44 megabytes, many micrographers are now storing images on Zip disks or magneto-optical drive disks; these can hold many images to sizes of 10 megabytes or more. Another popular storage medium, quickly gaining widespread popularity, is the recordable CD-ROM. Magneto-optical disks or CD-ROMs can be given to commercial printers and then printed with stunning color accuracy and resolution.
A photomicrograph is also a photograph. As such, it should not only reveal information about the specimen, it should also do so with attention to the aesthetics of the overall image. Always try to compose photomicrographs with a sense of the balance of the color elements across the image frame. Use diagonals for greater visual impact, and scan the frame for unwanted debris or other artifacts. Select a magnification that will readily reveal the details sought. Remember to keep detailed records to avoid repeating mistakes and to help with review of images that are several years old. Excellent photomicrographs are within the capability of most microscopists, so pay attention to the details and the overall image will assemble itself.
Contributing Authors
Mortimer Abramowitz - Olympus America, Inc., Two Corporate Center Drive., Melville, New York, 11747.
Michael W. Davidson - National High Magnetic Field Laboratory, 1800 East Paul Dirac Dr., The Florida State University, Tallahassee, Florida, 32310.
---
Questions or comments? Send us an email.
© 1998-2022 by Michael W. Davidson and The Florida State University. All Rights Reserved. No images, graphics, scripts, or applets may be reproduced or used in any manner without permission from the copyright holders. Use of this website means you agree to all of the Legal Terms and Conditions set forth by the owners.
Last modification: Friday, Nov 13, 2015 at 02:19 PM
Access Count Since March 25, 2000: 57230
For more information on microscope manufacturers,
use the buttons below to navigate to their websites: