Carl Friedrich Zeiss
(1816-1888)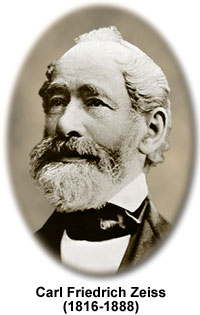 Carl Zeiss was a famous German instrument maker who lived during the nineteenth century and founded Carl Zeiss, Inc., one of the world's leading manufacturers of optical microscopes and related equipment. He was born as Carl Friedrich Zeiss in Weimar, Germany and from a very young age worked as an apprentice in the shop of Dr. Friedrich Körner, a mechanic who supplied the German court with microscopes and other scientific equipment.
Zeiss attended lectures at the Jena University as a young man, studying mathematics, experimental physics, anthropology, mineralogy, and optics. He also traveled as a journeyman for several years and took his practicals at the Physiological Institute in Jena under Professor Schleiden.
On May 10, 1846, Carl Zeiss submitted an application to the Weimar authorities asking permission to establish a mechanical workshop, which he opened for business later that year selling optical and mechanical instruments. After only a year, Zeiss had expanded his operation, acquired an apprentice, and had begun to develop a single-lens commercial dissecting microscope. His initial efforts led to the sale of 23 microscopes, an indicator of a very strong business for the period. Over the next several years, Zeiss continued to improve the quality and performance of his simple microscopes and enjoyed continued success.
During the period between 1847 and 1857, Zeiss spent a considerable amount of time developing a compound microscope with two lenses. Zeiss had a poor formal education in the theory of optics and it is quite impressive that he was able to achieve such a high degree of skill in microscope design and construction simply by trial and error. He was well aware of this shortcoming and spent a great deal of time attempting to establish a theoretical foundation for his designs.
The first Zeiss compound microscope, which was named the "Stand One", went on sale in 1857 and consisted of two optical elements: an objective and an eyepiece. Zeiss continued to modify and improve the microscope, and in 1861 he was awarded a gold medal at the Thuringian Industrial Exhibition where his designs were heralded as "among the most excellent instruments made in Germany".
By 1866, Zeiss had sold over a thousand microscopes, but design improvements had reached a standstill because of the lack of a theoretical basis from which new designs could emerge. Zeiss realized the problem and set out to find a partner who was knowledgeable in the theory of optics and microscopes.
Later that year, Zeiss made the acquaintance of Dr. Ernst Abbe, a 26-year old mathematician and physicist from Jena University, and engaged him as a free-lance researcher. During the next several years, Zeiss and Abbe sought the scientific foundations for the design and fabrication of an advanced optical system. They developed a new "illumination apparatus" in 1869 that soon enjoyed widespread use throughout Europe.
Finally, in 1872, Abbe derived his wave theory of microscopic imaging, and defined what is later to be known as the "Abbe Sine Condition". This breakthrough remains one of the most fundamental in the history of optical microscopy. Abbe's theory marked a revolution in microscope objective design, and the Zeiss lineup soon grew to 17 high-quality objectives, all based on sound optical principles.
It is reported that Zeiss' drive for perfection led to his personally destroying defective microscopes in his own shop with the brute force of a hammer. Although Abbe's theories were very solid, the quality of optical glass during the period left much to be desired and many of the theoretical limits could not be reached with the materials at hand.
Once again, progress in the design of Zeiss microscopes hit a brick wall. Microscopists were demanding higher quality images that simply could not be attained with the instruments he was producing. Abbe and Zeiss, who had now become business partners, entered a new phase with their attempts to develop new alloys of optical-grade glass that would satisfy Abbe's specifications.
On January 4th, 1881, Ernst Abbe met Otto Schott, a glass chemist who received a doctorate from Jena University in 1875, and the two agree to collaborate in developing improved glass formulas. Several months later, Abbe and Zeiss built a new laboratory for Schott, which would later become the Jena glassworks of Schott and Genossen. Their investment paid off five years later when they were able to introduce the most advanced microscope objectives ever made, the apochromats.
By this time, Zeiss' company had grown to 250 workers and successfully marketed over 10,000 microscopes, a quite impressive figure. Unfortunately, during this most explosive period in the development of the microscope, Carl Zeiss dies in 1888 at the age of 72. In his honor, Ernst Abbe established the Carl Zeiss Foundation in 1889, and the spirit of his tradition remains alive and well today, over 100 years later.
Zeiss Microscopes
Simple Dissecting Box Microscope - The simple dissecting box microscope featured in this section was made by Carl Zeiss of Jena, Germany in 1865. The base of the microscope is mounted on a 4.5 x 4.5 inch wooden box, with a curved limb having a circular pillar to support the ocular, stage, and mirror. The lens holder is adjusted (focused) by means of a micrometer threaded screw mechanism attached to the top of the pillar. The miniature stage measures about 1.5 inches square and has a 0.5-inch aperture. An adjustable condenser lens is mounted at the base of the stage and is elevated with a screw mechanism.
Horseshoe Dissecting Microscope - This elegant nickel-plated brass and wood microscope appeared in the 1885 Carl Zeiss catalog as the company's Dissecting Stand I, designed by Paul Mayer. The microscope is featured in Turner's excellent book Collecting Microscopes, a volume in Christie's International Collectors Series of books on antiques.
Carl Zeiss Brain Section Microscope - This microscope is signed 'Carl Zeiss, Jena, No. 33362', and was designated the "brain section microscope" when introduced sometime around 1902. The model featured in this section was redrawn from a photograph of the original microscope, which is part of the Billings microscope collection at Walter Reed Army Hospital in Washington DC.
Zeiss Laboratory Microscope - Carl Zeiss has been a respected name in optical engineering and technology for over 150 years, and many of their microscopes are among the finest ever made. The microscope illustrated in this section is a standard laboratory microscope, introduced by Zeiss in the 1930s, that has proven to be a workhorse for both routine lab work and advanced research investigations as evidenced by the fact that many are still in service today.
Ultraphot II Microscope System - The microscope, introduced in the 1950s, has a 100 watt incandescent illumination system in addition to an Osram 200 watt mercury arc lamp that together are termed the "Luminars System". Equipped with a matching all-metal work desk and power supply control, this microscope is a complete self-contained unit. Photomicrography is accomplished with a 35-millimeter camera head (shown), but the unit also has a 4" x 5" camera head complete with a Polaroid 500 film holder. The mechanical stage and substage condenser work with rack and pinion gear sets, a common feature of microscopes made in this era. Eyepieces, objectives and other internal lens elements are typical of the excellent quality seen by Zeiss throughout this century.
Universal Microscope - This microscope was one of the premier microscopes for all-purpose routine and critical microscopy applications during the 1960s. As usual, the quality of Zeiss workmanship and attention to detail is very evident in the design and execution of this superb instrument. A series of lenses, mirrors, and prisms work together to route the light through an intricate pathway throughout the body of the microscope.
Questions or comments? Send us an email.
© 1995-2022 by Michael W. Davidson and The Florida State University. All Rights Reserved. No images, graphics, software, scripts, or applets may be reproduced or used in any manner without permission from the copyright holders. Use of this website means you agree to all of the Legal Terms and Conditions set forth by the owners.
This website is maintained by our
Graphics & Web Programming Team
in collaboration with Optical Microscopy at the
National High Magnetic Field Laboratory.
Last Modification Friday, Nov 13, 2015 at 01:19 PM
Access Count Since December 24, 1999: 64934
Visit the websites of our partners in education: