Integrated Circuit Image Gallery
Weitek P9000 Video Graphics Processor
Weitek produced multimedia chips in the P9000 line for popular video cards released by Diamond and Orchid in 1994. After Weitek went out of business in 1997, it was absorbed into the Brooktree Division of Rockwell Semiconductor, which survives as an independent spin-off, Conexant Systems.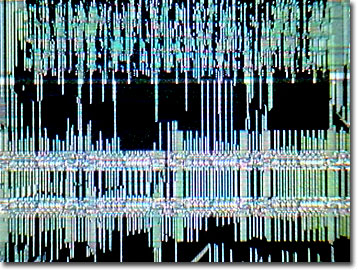 View a low magnification image of the Weitek P9000 graphics processor.
View a medium magnification image of the Weitek P9000 graphics processor.
Although the Weitek P9000 did not support three-dimensional graphics, it was popular with advanced computer users, supporting OS/2 and Linux platforms in addition to Windows-based applications. As a frame buffer and the driving force in graphics adapter cards that were the cutting edge for their day, P9000 chipsets were teamed with up to 2 Mbytes of 32-bit video random-access memory (VRAM) and usually a Weitek 5x86 VGA chip, such as the 5186. Providing on-board video RAM freed other computer resources, resulting in fewer bottlenecks and more efficient operations. Weitek followed the successful P9000 with the P9001, nicknamed the "Viper", a peripheral component interconnect (PCI) version of the P9000. An even later version, the P9100, was essentially a P9000 with a built-in Weitek 5286 chip that was also known as the Viper Pro/SE.
The Diamond Viper VLB graphics-adapter card employs the Weitek P9000 super video graphics adapter (SVGA) chipset with 1 or 2 Mbytes of video RAM, 256 kilobytes of dynamic RAM (DRAM), and the Oak OTI-087 chipset with a VESA local bus interface. The random-access memory/digital-to-analog converter or RAMDAC was a Brooktree Bt485 clocked at 135 MHz, but often only verified to 110 MHz. As one of the first SVGA VLB graphics adapter cards available, the Oak OTI-087 provided 256 colors at 1024 x 768 pixels for non-interlaced monitors and 1280 x 1024 for interlaced video. While the maximum dot-clock was 80 MHz, the P9000 chipsets were usually coupled with the OTI068 clock generator for a maximum frequency of 78 MHz.
Contributing Authors
Omar Alvarado, Thomas J. Fellers and Michael W. Davidson - National High Magnetic Field Laboratory, 1800 East Paul Dirac Dr., The Florida State University, Tallahassee, Florida, 32310.
---
BACK TO THE INTEGRATED CIRCUIT IMAGE GALLERY
BACK TO THE DIGITAL IMAGE GALLERIES
Questions or comments? Send us an email.
© 1995-2019 by Michael W. Davidson and The Florida State University. All Rights Reserved. No images, graphics, software, scripts, or applets may be reproduced or used in any manner without permission from the copyright holders. Use of this website means you agree to all of the Legal Terms and Conditions set forth by the owners.
This website is maintained by our
Graphics & Web Programming Team
in collaboration with Optical Microscopy at the
National High Magnetic Field Laboratory.
Last Modification Friday, Nov 13, 2015 at 01:19 PM
Access Count Since September 17, 2002: 7011
Visit the website of our partner in introductory microscopy education: