Butterfly Wing Scale Digital Image Gallery
Lormier's Swallowtail Butterfly
An African butterfly in the family Papilionidae, Lormier's swallowtail is prized by insect enthusiasts for its large, velvety black wings marked with pale yellow or white spots. Adding to their beauty are bands that highlight their prominent orange and blue false eyespots. The species is sometimes referred to as the central or western emperor swallowtail butterfly, which more closely reflects its regal appearance.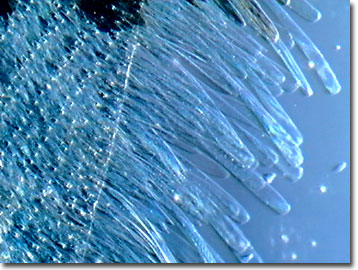 Scientifically described as Papilio lormieri by the great British zoologist W.L. Distant in 1874, there are three known subspecies of Lormier's swallowtail. Although the issue is not completely clear, the species and common name of the butterfly may be in honor of Marie-Thomas Chevalier de Lorimier, a French revolutionary hung in Montreal, Canada by the British government in 1839. Papilio lormieri is similar in appearance to two other species of African swallowtails and features sword-like extensions from its hind wings. Graceful in flight, Lormier's swallowtails are often observed in groups sipping moisture, salts, and nutrients from mud puddles.
Lormierís swallowtail larvae feed on vegetation in the rue and citrus tree family, Rutaceae. The East African satinwood tree, important commercially for creating fine furniture, cabinets, flooring, paneling, and veneer, is one of the caterpillar's preferred food plants. As with other papilionids, Lormierís swallowtail caterpillars feature a forked, eversible organ behind the head known as the osmeteria. The bright, fleshy osmeteria can emit a foul smelling terpene-based defensive compound. When threatened with the attack of a predator, the caterpillar rears its head back in an aggressive display, everts the osmeteria, and releases its defensive chemical. When the threat has passed, the osmeteria are withdrawn and are no longer visible to casual observers.
Although native to the forests of the Central Africa Republic, Uganda, Angola, Nigeria, Kenya, and the Congo, wild specimens for world markets are supplemented with Lormier's swallowtails raised on butterfly ranches and conservatories. Overlogging and clearing for cattle ranches, farms, and suburbs, threaten these stunning African lepidopterans in the wild and the caterpillar's feeding preference for commercially important citrus and timber crops results in the additional species hardship of frequent exposure to potent pesticides. However, Lormierís swallowtail butterfly populations help attract ecotourists to Africa for butterfly safaris, which may eventually replace permanent destruction of natural resources as part of a more sustainable, non-consumptive economy.
Lormier's Swallowtail Butterfly Images in Brightfield Illumination
Scale Separated from Wing - A single scale has become separated from the wing of a Lormier's swallowtail butterfly and is exhibited in the foreground of this image. One end tapers to a needle-like point and the other features a single v-shaped notch.
Lormier's Swallowtail Butterfly Images in Darkfield Illumination
Feathery Wing Scales - In this photomicrograph captured in darkfield the butterfly wing scales appear as if they are shaggy feathers. Small specks of dark scales are sprinkled among the more plentiful pale structures.
Contributing Authors
Cynthia D. Kelly, Shannon H. Neaves, Laurence D. Zuckerman, and Michael W. Davidson - National High Magnetic Field Laboratory, 1800 East Paul Dirac Dr., The Florida State University, Tallahassee, Florida, 32310.
---
BACK TO THE BUTTERFLY WING SCALE IMAGE GALLERY
BACK TO THE DIGITAL IMAGE GALLERIES
Questions or comments? Send us an email.
© 1995-2022 by Michael W. Davidson and The Florida State University. All Rights Reserved. No images, graphics, software, scripts, or applets may be reproduced or used in any manner without permission from the copyright holders. Use of this website means you agree to all of the Legal Terms and Conditions set forth by the owners.
This website is maintained by our
Graphics & Web Programming Team
in collaboration with Optical Microscopy at the
National High Magnetic Field Laboratory.
Last Modification Friday, Nov 13, 2015 at 01:19 PM
Access Count Since January 21, 2003: 17968
Visit the website of our partner in introductory microscopy education: