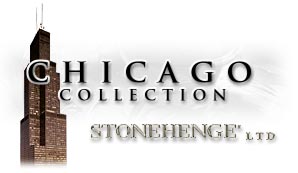 The most recent addition to the Stonehenge family is the "Chicago Collection". Sold exclusively by Marshall Field's stores in the Chicago metro area, the "Chicago Collection" sports patterns based on the molecular structure of various Chicago area icons and landmarks, such as Water Tower limestone, Wrigley Field ivy and Chacago-style pizza. To date, $20,000 has been donated to the Chicago Historical Society in commemoration of the "Chicago Collection".
Field's Great Christmas Tree - Following an exaustive day of shopping at Marshall Field's, you can head to the Walnut Room and enjoy an old-fashioned chicken pot pie beneath Marshall Field's Great Christmas Tree. This 45-foot tree stands proudly in the center of the restaurant and is Marshall Field's Christmas tradition.

Frango Mint Chocolate - Another Chicago tradition is the wonderful chocolate candies from Frango Mint. From the State Street store you can endulge in everything from their famous Frango Mint Chocolate Mint Chip cookie to their sinful chocolate covered coffee beans.

Lake Michigan Water - The entire West Michigan shoreline is blessed with beautiful beaches from the Indiana border northward to Mackinaw City, Michigan. So, if following a rough week of work or school you would like to get away from the crowds for a bit, Lake Michigan is a great place to cool down from the heat of the city streets.

Lou Malnati's Pizza - Considered the oldest family name in Chicago pizza, Lou Malnati's is as rich in history as it's pizza is in flavor. Made by hand and delivered anywhere in the world, Malnati's is truely a taste of Chicago.

Wrigley Field Ivy - The original vines at Wrigley Field were purchased and planted by Bill Veeck in September 1937. Veeck strung bittersweet from the top of the wall to the bottom, then planted ivy at the base of the wall.