Integrated Circuit Image Gallery
Weitek Math Coprocessor
In 1988, upstart semiconductor manufacturer Weitek released math coprocessors that were able to perform most functions featured by the Intel 80387 math coprocessor when matched with the wildly successful 386 processors. Because Weitek math coprocessors used system random-access memory (RAM), 386 motherboards supporting these chips were significantly faster than those seating i387s.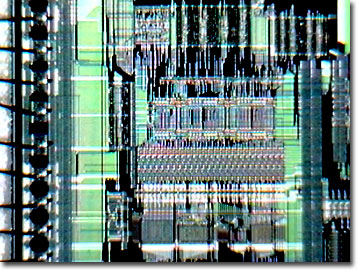 View a medium magnification image of the Weitek math chip.
View a high magnification image of the Weitek math chip.
Weitek released models including the 1164/1165 Weitek floating-point unit (FPU) and the 1167 Weitek math coprocessor. The Weitek 3167 replaced the 1167 chip for the 386 processor while the Weitek 4167 was marketed as a numeric coprocessor matched to the 486 microprocessor.
Not completely compatible with the 387 processor however, the Weitek chips created some error messages with standard drivers. Because floating-point hardware differed from manufacturer to manufacturer, differences resulted when performing calculations that involved floating-point numbers caused by varying numerical techniques for handling rounding, truncation, and conversions. The Intel counterpart featured a double-precision mantissa while the Weitek math coprocessor ultimately failed high-precision solutions due to its limited single-precision mantissa. Code for many RISC computer brands, such as NEC, demanded double-precision versions of source code or the use of an auto-double option at the time of compilation because they were designed to operate with 64-bit systems. Many personal computers, such as those produced by Epson, did not support Weitek math coprocessors while others provided a separate socket for the speedy competitor with a distinctive pattern featuring 3 rows of pins on all sides.
In the late 1980s, computer-assisted drawing (CAD) programs were the rage and many took full advantage of the speed edge offered by the Weitek math coprocessors by incorporating their unique machine code. Quattro Pro, the speedy spreadsheet software that took on the industry giant, Lotus 123, added versatility by employing either Intel or Weitek math coprocessors. Some experts believed that the Weitek silicon devices might have been even faster than the Pentium and some of the other more advanced personal computer microprocessors. However, utilizing system memory meant that an allocation of address space was required to properly use these Weitek coprocessor chips.
Contributing Authors
Omar Alvarado, Thomas J. Fellers and Michael W. Davidson - National High Magnetic Field Laboratory, 1800 East Paul Dirac Dr., The Florida State University, Tallahassee, Florida, 32310.
---
BACK TO THE INTEGRATED CIRCUIT IMAGE GALLERY
BACK TO THE DIGITAL IMAGE GALLERIES
Questions or comments? Send us an email.
© 1995-2019 by Michael W. Davidson and The Florida State University. All Rights Reserved. No images, graphics, software, scripts, or applets may be reproduced or used in any manner without permission from the copyright holders. Use of this website means you agree to all of the Legal Terms and Conditions set forth by the owners.
This website is maintained by our
Graphics & Web Programming Team
in collaboration with Optical Microscopy at the
National High Magnetic Field Laboratory.
Last Modification Friday, Nov 13, 2015 at 01:19 PM
Access Count Since September 17, 2002: 11713
Visit the website of our partner in introductory microscopy education: