Normally when we think about computer chips, the last thing that comes to mind is the inherent beauty of nature's vast wilderness. You can imagine our surprise when we stumbled across this silicon rendition of Colorado's Maroon Bells-Snowmass Wilderness Area on a Hewlett-Packard integrated circuit. The image is difficult to decipher without help, so we have included the original photograph of these mountains below: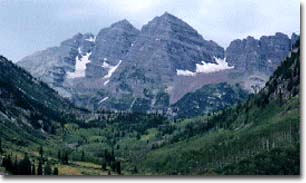 The caption at the bottom of the pad, beneath the mountains, reads "The Maroon Bells near Aspen, Colorado". This chip was designed by Hewlett-Packard's Colorado Springs Division for use in the 56000 series "analog feel" digital oscilloscopes introduced in the early 1990s. The code name for this chip is "Aspen", which is an acronym for Acquisition Signal Processing ENgine. Other doodles on the Aspen chip are the disclaimer and the Aspen leaf featured elsewhere in the Silicon Zoo.
View this silicon artwork under brightfield and darkfield illumination.